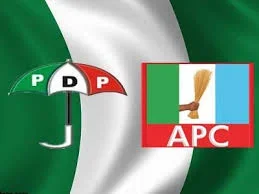 The All Progressives Congress (APC) in Rivers State claims it has received credible intelligence that the Governor of Rivers State, Nyesom Wike and the Peoples Democratic Party (PDP) plan to implicate the party in the Rivers rerun poll.
The party says several National Youth Service Corps (NYSC) uniforms have been produced with APC tags which PDP thugs will wear and thumbprint ballot papers on election day to implicate the APC.
According to the political party, the plot by the PDP and Governor Wike is to justify the wild allegations the governor has been making against the Independent National Electoral Commission (INEC), the Inspector-General of Police, Rivers State Police Commissioner and other stakeholders in the weeks leading to the rerun elections.
In a statement, the party alleged that the same intelligence report indicated that the PDP and Governor Wike had been branding Hilux trucks similar to the ones used by security agents at an undisclosed secured location.
"They are alleged to have also cloned and produced various uniforms belonging to security agencies especially the Nigeria Police and special military camouflage for the purpose of infiltrating the security agencies and invading communities where rerun elections will take place on December 10 to hijack electoral materials and perpetrate other electoral mischief," the APC claimed.