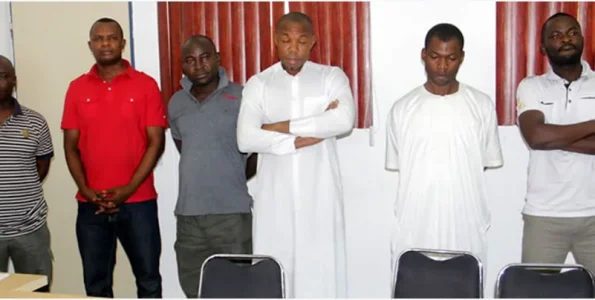 The police dismissed an Inspector and five sergeants crew to the Rivers State Governor, Nyesom Wike, over alleged misuse of firearms during the legislative rerun in the state in December last year.
They are ex-Inspct. Eyong Victor, ex-Sgts. Peter Ekpo, Oguni Goodluck, Orji Nwoke, Okpe Ezekiel and Tanko Akor.
However, Governor Nyesom Wike has described the decision by the Nigeria Police to dismiss six police officers as pathetic.
In a press statement signed by the Commissioner for Information, Dr. Austin Tam-George, and issued on Friday night, the government claimed that the police officers were subjected to a secret and unfair trial, "on totally fictitious charges of professional misconduct, during the rerun elections in Rivers State on the 10th of December 2016."
The government viewed the dismissal as "a tragic day for professionalism and the respect for human rights in the Nigeria police force," saying that "the dismissed officers committed no crime, other than foil a carefully orchestrated electoral heist by officials of the Independent National Electoral Commission (INEC) in collusion with the All Progressives Congress (APC) and the Nigeria Police force."
According to the statement, the claim by the Police that the affected officers misused their firearms while in the convoy of governor Wike on the 10th of December, 2016, was a wrong and cruel fabrication.

The state government, then, urged Nigerians to demand the immediate reinstatement of these officers, and for the Inspector General of Police to allow an independent inquiry, adding that the APC government has never hidden it's alleged desperation to "overrun Rivers State, colonize its people and loot the treasury of the State."

The statement maintained that the Rivers people would continue to resist all attempts to enslave them.