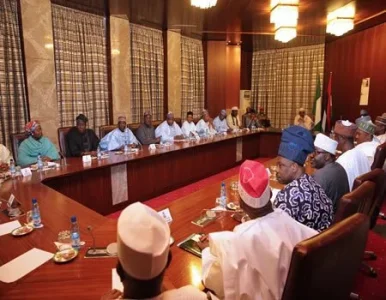 Members of the Nigerian Governors' Forum (NGF) are billed to meet in Abuja today, to discuss the growing tension associated with the 10-day annual leave of President Muhammadu Buhari, Nigerian Tribune reports.
Speculations waves across board on Wednesday that the president's health might have deteriorated, following an alleged move by some forces to get Vice-President Yemi Osinbajo to resign which the Presidency swiftly denied..
Also, the Minister of Information, Alhaji Lai Mohammed, threatened action against originators of death rumour of the president, insisting that President Buhari was hale and hearty.
Sources close to the APC told the
Nigerian Tribune
that the governors had started arriving in Abuja, in readiness for the meeting scheduled for today.
A source also said the meeting would discuss the possibility of sending a delegation to visit the president in London, United Kingdom (UK).
Zamfara State governor and chairman of the forum, Alhaji Abdulaziz Yari, is expected to preside over the meeting which sources said was called to dispel the growing tension and avail the governors the opportunity of the true situation of things as regards the president and the Presidential Villa.
"A number of our colleagues have been bombarded with calls by concerned citizens about what they are reading on the social media about the president. It is incumbent on the NGF to take concrete steps to stabilise the situation. Remember that the forum did the same during the tenure of the late President Umaru Yar'Adua," a source said.
"The situation needs clarifications. We can't afford our citizens to be in the dark that is why we are meeting on Thursday," a source said.