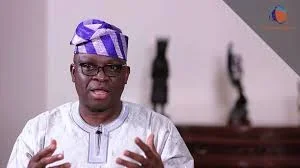 Governor Ayo Fayose of Ekiti State has warned the Federal government to stop harassing religious leaders in the country.
Speaking through his special assistant on public communications and new media Lere Olayinka, Fayose, accused the federal government of indirectly supporting attacks on Christians.
Fayose said: "Nigerians, either Muslim or Christian deserve to be protected by the federal government, which controls all security apparatus in the country and the moment the federal government can no longer protect Nigerians from being killed by rampaging herdsmen, citizens of the country will have no option than to defend themselves."
"If the federal government had acted swiftly like it acted on Apostle Suleiman so-called inciting comments when people were being killed by herdsmen across the country, so many lives would have been saved.
It is on record that the APC in Ekiti State issued press statements and went on social media to disparage the Redeemed Christians Church of God (RCCG) Worldwide General Overseer, Pastor Enoch Adeboye just because he praised me when he came to Ekiti. And curiously, it was immediately Pastor Adeboye came to Ekiti State and praised me that he was forced to relinquish his position as the General Overseer of the RCCG.
"Apostle Johnson Suleiman openly condemned the killing of Nigerians across the country and went on to say that Christians should rise and defend themselves if the federal government, which controls all security apparatus will not defend them and the next thing that happened was the DSS moving swiftly to arrest him.
"Isn't it ridiculous that instead of running after those herdsmen that have killed over 3,000 Nigerians in just one year, the DSS opted to arrest a man of God, who merely expressed his frustration on the inability of Nigeria to protect its citizens?
"Or who should be arrested between those killer herdsmen and Apostle Suleiman who merely expressed his readiness for self-defence and called on Christians to defend themselves if they are attacked by the herdsmen?
"We were all in this country when cattle breeders openly said over 1,000 Agatu people of Benue State were killed because over 10,000 cows were killed. We were also told that the Southern Kaduna genocide was as a result of killing of cows. Up till today, none of those cattle breeders have been arrested."