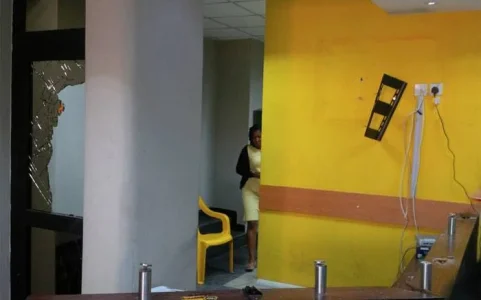 Nigerian protesters on Thursday attacked and vandalised the head office of Africa's biggest mobile firm in Abuja in apparent retaliation for anti-Nigerian violence in South Africa.

South Africa's mobile operator MTN Group, who visited Acting President, Yemi Osinbajo said they are concerned over the violence against its property in Nigeria, where protesters attacked and vandalised its head office.

"They vandalised equipment, stole customer phones and I-Pads. Some customers too were attacked."

A South African government source described the attack as serious. "This wasn't just some people on the street throwing stones. They broke into the building and stole things and broke things," the source said.

The incident coincided with a visit by MTN chairman Phuthuma Nhleko to the Nigerian capital to see Vice-President Yemi Osinbajo, who has been in charge for the last month in the absence on sick leave of President Muhammadu Buhari.

"Reacting to recent events that appear to be directed against non-nationals both in South Africa and Nigeria, MTN Group expresses concern over the violence," the group said in a statement made avaiable to Reuters.